Celebrating Over 100 years of Serving Our Communities!
Many things have changed over the years that Pioneer Federal has been there for the community.
1912
9 Board of Directors:

Joseph Whitworth, Peter Pauley, William Cummins, F.J. Shanley, Frank McAvoy, S.P. Wilson, George M. Crabb, I.S. Eldred, W.S. Greely

5 men were on the committee to prepare rules, regulations, and by-laws for the Powell Building and Loan Association
April 26, 1912 Officers were elected

TJ Hamilton-President
Peter Pauley-Vice President
Arthur Lochrie-Secretary/Treasurer
T.F. Shea-Attorney

27th of April the Articles of Incorporation were filed and recorded at the County Clerk of Powell County and were authorized to do business for 20 years.
1918
By-laws changed to state that before receiving a loan a borrower shall execute to the association a 1st mortgage on unencumbered real estate in Powell County. The buildings must be kept insured with some reasonable company and our association must be listed as the loss payee.
Appraisal committee consisted of 3 board members.
1924
Mr. Arthur Lochrie- President
Joseph Whitworth- Vice President
G.O. Baxter-Secretary/Treasurer
Sec. Baxter was delegated to represent the association at the meeting of the League of Montana Building and Loan Association in Missoula.
Participated in a shareholder loan to help purchase Powell County High School.
1925
After much work, 2 loans sent to the attorney with instructions to foreclose without further delay (1st foreclosure)
1929
By-laws amended to comply with state law
1932
Discussion on how the directors have adopted a very conservative policy in managing the affairs; this still continues today
Each stockholder was encouraged to get a new member for the association
Special meeting held in order to extend the corporate existence of the association to a continual succession
Largest loan of $13,000.00 approved for apartments
1933
F.B. Durrie resigns
V.E. Lanstyak becomes the third President
Carl ZurMuehlen- Vice President
S.P. Swenson- Secretary/Treasurer
Directors go on record as establishing the date of filing withdrawals as of January 9, 1933

All withdrawals and loans go to directors for approval. Withdrawals cannot exceed $100.00 per month

President or Vice President and the Secretary are authorized to refinance all loans coming up for refinancing during the month
Due to financial condition, no dividend was paid for the year
V.E. Lanstyak resigns in December

Carl ZerMuehlen takes over presidency vacancy
1934
Times are tough! Taxes delinquent, foreclosures, people walking from homes and loans
19 properties owned by bank shall be sold to the highest bidders. Any property not sold the first time will be for sale in the following months
All stock can be taken out if the customer accepts a 10% discount
1935
In January, the proposition of converting the association into a Federal Savings and Loan Association
7 Board of Directors:

V.E. Lanstyak, Conlin, Carl ZurMuehlen, S.P. Wilson, E.J. Nichols, Ensign, Castleton

Decision to change from state corporation to a federal corporation on July 16 at the board meeting
In September, Federal Home Loan Bank (FHLB) authorized the association to be converted to a Federal Savings and Loan

Name becomes Deer Lodge Federal Savings and Loan Association
1936
Board of Directors must have no less than 5 members but no more than 15
Interest rates fixed at 6 ½%
$6.00 appraisal fee
$10.00 Recording fee
Stockholders more confident now that the association is a federal system
Loan request slowly growing
Real Estate loans increased from $10,728.57 to $43,848.58.
1939
Located at 311 Missouri Ave., Deer Lodge
Advertising by theater screen with vocal speech
Letter from FHLB states that a new location is needed as well as new management in order to succeed
Sec. Castleton resigns
1940
K.W. Haviland is appointed as Secretary
Association moved location to the office of Mr. K.W. Haviland
Carl ZurMuehlen- President
E.J. Nichols- VP

(Directors: Carl ZurMuehlen, S.P. Wilson, Frank Trask, H.C. Heinsich, E.J. Nichols, K.W. Haviland)

Secretary is authorized to sign checks without a countersignature of another officer
Received about $14,000.00 of new shares since January
1942
A customer; a US Army soldier, asks for relief of payments during duration of the war. Board granted request.
Received a telegram from the Administration of War Bond sales for Montana congratulating the association on their record as first in the state on percentage of sales of total assets.
1945
Reduced number of Board of Directors from 6 to 5

(Frank Trask, Carl ZurMuehler, H.C. Heinsich, S.P. Wilson, K.W. Haviland)

Regular dividend of 1 ¼% paid in December plus ½% special dividend
1948
1951
Officers are instructed to accept title insurance policies of the Title Insurance Company instead of abstracts of title in any loan made by the association
1953
H.C. Heinsch-President
Frank Trask- VP
J.G. Haviland-Sec.
R.N. Wyckoff-Asst Sec.
Long time director and secretary K.W. (Kelsey W.) Haviland passes away
1955
Increase number of Board of Directors from 5 to 7

(A.E. Fenion, Martin Olsen, Frank Trask, Aspling, H.C. Heinsch, S.P. Wilson, J.G. Haviland)
1956
Purchased a fire proof legal file and a new counter which includes 2 teller windows
Three inspection reports should be made on construction loans – still applicable to Pioneer today
Use of a passbook goes in to effect
1958
There are now 5 clerks working at the bank using one cash drawer
Minimum of 15% down on FHA loans
1960
7 Board of Directors:

Howard McQuin, Frank Trask, Martin Olsen, J.G. Haviland, H.C. Heinsich, A.E. Fenion, Ace Irvine

Ace Irvine becomes active managing officer of the association.
1961
H.C. Heinsch resigns as president due to health issues after 25 years of service
Robert N. Wyckoff to serve until next annual meeting
Howard McGuin resigns as director, Loy Mizner elected
Built shelter at golf course for advertising purposes
1964
Contribution of $25.00 toward the Merchants Summer promotion program
Savings withdrawals less than $50 now done in cash. Withdraw slips showing account number, date, amount, and signature must be filled out. Passbook MUST be present
Adopted a loan delinquency policy
1965
Reached the $4,000,000.00 in assets mark
Rate 6½%-7% depending on determination of loan committee
Application fee of $25.00
No charge for appraisals
Escrow services and originating fee is $15.00
Slow loans make up only 3.5% of total assets
Donation made to Powell County Memorial Hospital
1967
GI loans up to 90% for qualified borrowers
4½% on passbooks
5% on certificates
1968
Savings become "deposits" instead of "shares"
1970
Mobile home loans on case by case basis; no specific rules established
$80,000.00 loan approved
July 1970- the site on Milwaukee was chosen for the new site of Deer Lodge Federal Savings and Loan
1971
Open for business in the new office on August 2, 1971. Hours from 9-5:30.
Grand opening held Oct. 15, 1971; pens, orchids for the ladies, pencils, and balloons for children were given away
1972
Dennis Phillips-Management Trainee resigns; James E. Thompson employed as a replacement and given the title of Loan Officer
First year of Christmas decorating party
Phyllis Welch works for Deer Lodge Federal Savings and Loan
1973
Association purchases first Burroughs L500 mini-computer system for $26,000.00
1974
Discussion of Dillon Branch takes place in February
Savings and Loans become eligible as depositories for Public funds and trust indentures. Legal for tracts up to 15 acres
Director R.N. Wyckoff resigns; Tom Beck fills vacated spot
Begin offering Money Orders
No slow loans as of December 1974
1975
IRA accounts available; 5 opened between May and August
Purchase of 2 Burroughs Sensematic machines and a new printing calculator
August 1975- Tom Welch hired as a management trainee
Preliminary application approved for Dillon Branch
1976
As of April 1, 1976 the name Pioneer Federal Savings and Loan will be used

Other ideas were Valley, Southwest, and Mountain

Federal Home Loan Bank approves 102 N. Washington, Dillon for alternate site
Pioneer building shipped June 5th and should be completed within 90 days
Dillon branch opened for business on October 11, 1976

Grand Opening November 5th and 6th

Manager is Tom Welch
1977
Theodore Hazelbaker appointed director of association from Dillon
Many loans made in Dillon and one in Twin Bridges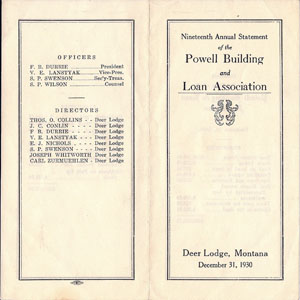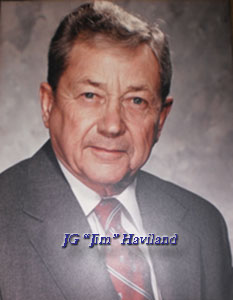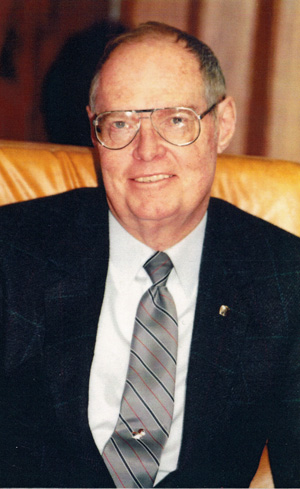 Ted Hazelbaker-First Dillon Director 1977